Finding our place
Our first year in Honduras has now passed.  That year went by quickly.  We are now at the point in our language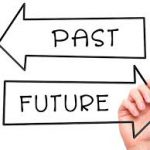 studies where we think we are ready to move out and really find our place in the country of Honduras. We are not sure how long or exactly what that will look like, but, we are moving forward, being patient and letting God guide us.  It looks like we will be studying language, getting more involved with our church, working and spending more time with other missionaries, studying and preparing discipleship training materials (using the discipleship evangelism course from Andrew Wommack and Don Krow as our base to build on) and most importantly listening to the Lord for the next steps.
We have talked with several missionaries and have a Honduras missionary conference at the end of the month where we expect to network with several missionaries to plan time to visit, observe and participate in their ministry work.  We want to see what they do and where they work.  This may give us helpful information about our ministry direction.  The Lord has given us a vision and now we are looking to Him for more details on the implementation.  The vision is basically to disciple adults in the grace and faith balanced message the Lord has given us.  The actual implementation of that vision could follow many different directions.  Thank you God for your vision and the details to follow.
Learning language (and culture) never ends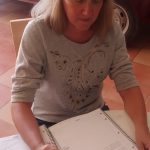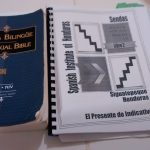 We will be continuing our language studies as our schedule permits.  Learning a second language is a life time endeavor.  We still believe that language and culture are two of the most important pieces in ministering here.  Of course, we must know the word and have a message that God wants us to share.  But, without knowing the language and having knowledge of the culture, it would be very difficult to communicate what God wants us to share.
Putting the truck through its paces
We are enjoying our new wheels here in Honduras! Thanks again to all who prayed for us to get a truck and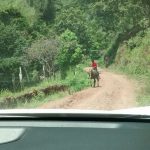 thanks to those who gave and helped financially! We have ventured out on rural roads and taken our first trip "to the big city" going to San Pedro Sula (SPS), a 2-hour drive from Siguatepeque, our home town. The truck drove great as we watched out for pot holes, tumulos (speed bumps), motorcycles, bicycles, pedestrians, dogs, cows, chickens, horses and any other thing that you can (or cannot) imagine. It's interesting driving down the roads here and it is definitely necessary to keep your eyes on the road and everything around you at all times! In San Pedro Sula we went to Diunsa, a home goods store and bought some fluffy pillows! Sleep is much better now. Then we went to Pricesmart, the Sam's warehouse of Central America. They have many American products in bulk and at better prices than the normal stores around
us. Before heading back, we ate at Popeye's. Good spicy chicken, french fries and a biscuit! There are rotondas (roundabouts or traffic circles) in SPS, the only problem is there are not many signs, of any kind. No signs with road names, street numbers, nada (nothing). We drove around the rotonda and took the first street, went a few blocks and decided we took the wrong street.  We turned around went back to the rotonda and took the next street. A few blocks down we realized the first street we took was the correct one so back around to the first street again. All went well after that. A successful trip with fluffy pillows for the night.
Driver's license
Now that we have our residency card we needed to get our Honduras driver's license. This is the process and our experience: There is no license office here in Siguatepeque so the closest office is in Comayauga, 45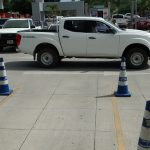 minutes away. There are no books available (that we can find) to study for the written test.  You have to go and sit through a 3-hour talk (in Spanish) giving all the rules and information for the test.  The test is all in Spanish but thankfully we could take an interrupter with us. She was very, very helpful in letting us know what was important to know and we both made a 95!! PTL! Next, they have the practico test, the driving part. We had been told by many people that those with driver's license from the states did not have to take this test so we went to the next step. Unfortunately, the rules have changed so that everyone has to take the practico test—ugh! So, back we went to the Practico exam.  Robin explained to the police chief that we only had a manual vehicle and she could not drive it. The chief replied, no problem, you can borrow a car, we will get you one.  The practico test is in the parking lot of the police station; you have to turn out of a lane go 20 yards, stop, then back around the turn into a parking spot. They have cones set up on the front corners of the parking space and you back in without touching them. As soon as we walked out of the building they had a car for Robin, a taxi. She nervously went, tried to adjust the mirrors, forgot to put on her seat belt (strike 1), backed up looking back (strike 2-you have to use the mirrors only, can't turn your head to look back) then barely touched the cone (strike 3).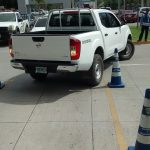 Gene had not tried backing into a parking space in our new, large truck but he did have his seat-belt on and did use the mirrors but bumped into the cone. Our first try was not successful so we left. Gene laughed as we drove away saying, "just think, I drove to take the driver's test, failed it and now I'm driving home, couldn't do this in the states."  The next day we went looking for a parking lot with marked parking spaces so Gene could practice, not an easy thing since most parking lots are graveled or dirt, but the bus station had marked spaces so he got some practice. The next day we drove back to try again and Gene, with God's help, passed the test quickly.
We are learning and growing in our new country, Honduras. Our hope and desire is to help brighten the future  of many Hondurans as we share God's love and the good news of Jesus!
If the Lord leads you to support our ministry financially, all gifts are tax deductible and should be mailed to: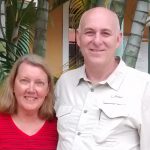 Heart of the King Ministries
115 Creden Pl
Alabaster, AL. 35007
Checks should be made payable to Heart of the King Ministries.
If you would like to use a credit or debit card or your PayPal account,
PayPal is available on our website at this LINK.
Click this LINK to view our Honduras photo galleries (newer photos appear toward the bottom of the individual gallery).