The past month has been a calm and peaceful time of continued studying and learning. The weather is pleasant with warm days and cool nights. We are blessed to be in Siguatepeque, Honduras.
interesting and informative responding to the questions raised.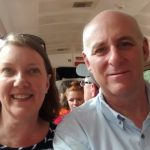 Yes, the weather is warming up and our spirits are warming up as we continue to prepare for ministry. No truck yet, but this is the month, no details for future plans other than continue to follow His leading.  It's poco a poco, one step at a time.  His timing is not always our timing, but His timing is perfect.  Thanks for the emails, texts, calls and prayers to encourage us, they really do help!
Serving the Lord with gladness,
Gene & Robin Willis
If the Lord leads you to support our ministry financially, all gifts are tax deductible and should be mailed to:
Heart of the King Ministries
115 Creden Pl
Alabaster, AL. 35007
Checks should be made payable to Heart of the King Ministries.
If you would like to use a credit or debit card or your PayPal account,
PayPal is available on our website at this LINK.
Click this LINK to view our Honduras photo gallery (newer photos appear toward the bottom of the gallery). We will continue to add photos to this gallery.