Settling is a bad thing, if you are settling for less than God's best.  But settling into where God has placed you is a good thing.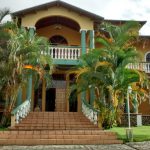 We have been in Honduras for almost a month studying Spanish and we are starting to settle in and feel the peace of God.  The first few weeks were a little difficult.  Well, not actually difficult,  more like different, very different.  At times we looked at each other and said, "Toto, we are no longer in Kansas".  Of course that is the line from the Wizard of Oz when Dorothy and Toto discovered themselves in the land of Oz.  We felt a little (or a lot) like that.  Reality check: we are in a different country.  They do lots of things differently.  We actually love a lot of the differences.  It is definitely not bad, just different.  We walk everywhere we go, the streets are crowded, the traffic is crazy, the food is different, the shopping is different, it is almost like learning how to live over again.  Even a quick run to the bank is an adventure in patience.  Going to the bank is like going to the DMV in the US.  You take a number and take a seat.  When they do call your number, you go to a window and try to tell them what you want.   At the grocery store you take a number at the meat counter and have to plan how to say what you want when your number is called.  On a quick trip to the hardware store, we looked like the gringos we are.  When you are ready to check out, you take your items to one counter to get the ticket written up (leave your items at the counter).  Then you go to another counter to pay.  Then you go to a third counter to pickup your items.  Complete confusion filled our minds.  We are finding that we can speak just enough Spanish to survive and stumble our way along.  As we learn more, that part will get easier. But don't take any of this the wrong way.  This is where God has placed us at this time and it is great.  We are adjusting and loving it.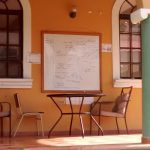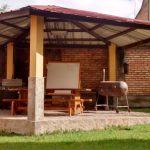 Our classes are individual one on one with the instructor.  Gene's class is currently held on the front porch of the school and Robin's class is currently held in a gazebo in the back yard.  There are many other classrooms scattered about the school (inside and outside of the building).  We change teachers every 3 to 4 weeks, so we will be in different classrooms as time goes by.
The intense classes we are taking are definitely a challenge and very draining.  After class all we want to do
is sleep and never hear another Spanish word again.  But, when class starts the next morning, we are ready and eager to go.
It  was a blessing that we met a couple in the grocery store just a few days after we arrived.  Paulo is Honduran and Jane is from the US.  They live in Denver but travel here several times a year to spend time with Paulo's family.  They invited us over to their home for coffee and the next week for their son Brandon's birthday party.  At the party, we met a lot of Paulo's family.  Paulo has a lot of cousins.  This was a great opportunity to practice our Spanish and see how the people interact in this culture.  We thoroughly enjoyed ourselves and the birthday cake.  They have now returned to the US until Christmas when they will be back for some more family time.
We have started to attend a home group that meets at our school.  We are enjoying our time together with other students and missionaries from the area to study God's word.  We have also attended a few church services.  They are totally in Spanish with no translators.  For now, we can usually follow in the Bible to get an idea of the sermon.  As our time passes by here, we intend to learn as much Spanish as possible and learn the culture as much as possible.  This is the opportunity and time the Lord has provide for us to receive more of what He has for us.  Then we will be able to share more of our Lord with the people in this country (or another Spanish speaking country or community).  We are open to the Lord's leading.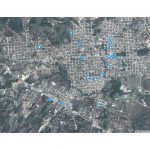 This is a map of Siguatepeque.  We have labeled some of the important places.  Click to enlarge and take a look (sorry, it is still very small).  Our apartment is the little house shaped image toward the middle top.  The school is the closest dot to us about 3 blocks south and three blocks to the east.  The center of town is another .75 miles to the south east.  We have walked to almost every blue dot on this map.  Some multiple times a week.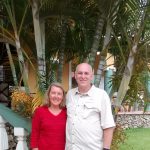 We want to thank all of our friends and family for being a part of this time in our life. Thank you for your prayers and support.   You are as much a part of the lives that are changed and will be changed by this ministry as we are.  May the Lord bless you and your families.
If you feel lead to help support us financially, all gifts are tax deductible and should be mailed to:
Heart of the King Ministries, P.O Box 4018, Woodland Park, CO. 80866-4018
Checks should be made payable to Heart of the King Ministries.  If you would like to use a credit or debit card, PayPal is available on our website at this link (www.heartoftheking.org/donations).  Continue to visit our web site to follow the ministry work.
A special thank you to those who have given financially.  Our first three months of school has been covered.   What a blessing.  Your support is greatly appreciated.
Click this LINK to view photos from Siguatepeque and the Spanish Institute of Honduras (including our apartment & a celebration at a local school).  We will continue to add photos to this gallery while we are attending school.
Blessings
Gene & Robin Willis